I'm trying to make time in my days to just play around. There are so many ideas floating around in my head and it's so easy to get lost in the shuffle of ideas. If I take time out to indulge in some of those ideas then I'm a happier camper. Here's a tile I drew the other day:
I still want to do this week's Diva Challenge, but in the mean time I've been thinking of new ideas. Next week my sister and I are heading to Finland for a week and hopefully you will be seeing some of the patterns along the way. My zentangle supplies are definitely getting packed in the carry-on bag.
One of my thoughts was, "what would the tile look like if I tinted it with coffee?"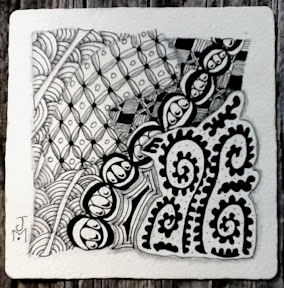 Interesting. Now that I look back at the top photo, I see a coffee color shadow in the upper right hand corner....that's not it. It's hard to tell with these photos but perhaps this will help:
Oh oh, time to go to work.
Posted using BlogPress from my iPad