Last night my son and I went to Stratton Mtn to go see Deepak Chopra speak. Wonderful! We then listened to Andrew Bird, Chicago-based multi-instrumentalist, lyricist and whistler. Very talented guy! Wow,it was a great evening.
Today I took a class at
Fletcher Farm School
of painting silk scarves with Nancy Dorian. More fun! Of course I decided to make a zentangle scarf, which took me all day. Here's what it looked like once I got the resist on:
And here are some close-ups:
Now I needed to figure out what to do next. Should I put a black wash over it (the resist washes out and will leave white lines in it's place)? Or should I put some color into it; if that, then what colors? Note: by this time everyone else in the class was on to their second or third scarf.
So here's what I came up with:
The black would've been really tricky so color it was.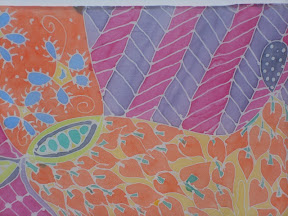 What do you think? I'm pretty happy with it, although I am quite tired.
Posted using BlogPress from my iPad