Yay, we made it through our first week of school! I was so exhausted when I got home from school every day that after all the chores, I'd crash pretty hard and not get any tangling done. Tonight I forced myself to sit down and see what I could do with this week's
Diva
challenge, brought to us via Maria at
Zentangle
, using only Rick's Paradox tangle pattern. I knew that I would enjoy it. The first one I made was using a string that I had thrown on a tile a while back and had never done anything with it.
I like it more than I thought I would. The next one I had fun using the title of the challenge. (tee hee) It was a little more challenging but I like it a lot. So here is my pair of ducks.....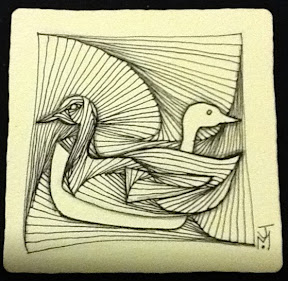 Thank you Laura and Maria. You gave me a nice ending to my week. Now I'm ready for the weekend!